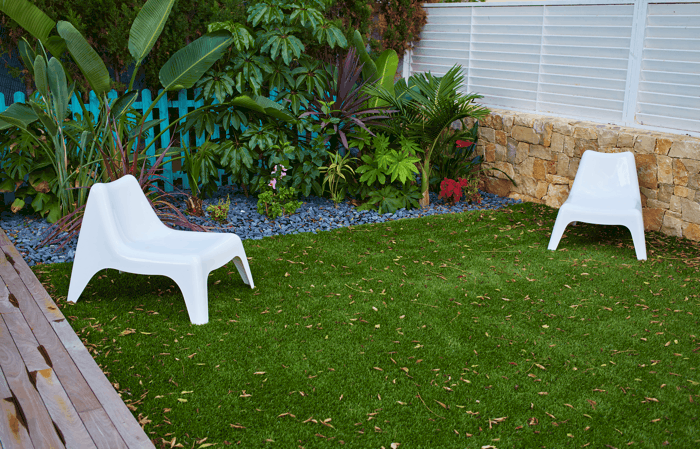 Artificial grass is perfect for smaller lawn areas.
ARTIFICIAL GRASS – KEEPING YOUR BACKYARD LOOKING FABULOUS … EVERY DAY OF THE YEAR
With amazing advancements in the quality of artificial grass over the last few years, choosing this option for your outdoor entertaining is more popular than ever!
Have a pet? No problem – these days we have artificial grass that is pet friendly.  Have a large family and kids playing cricket and ball games? There's an option for you.
If you've been considering artificial grass for a while, you're probably aware of some of the benefits, but here are the top 5 reasons to install artificial grass – so great for the harsh summers in Perth -
100% drought resistant : No longer worry about watering the lawn, your garden will look good, natural and green all year round.
Low maintenance : Busy families no longer want to spend all their weekends tending to their garden! Get artificial grass and never have to mow the lawn again!
Safe for you children and pets : We choose quality chemical free products that will suit your family and your lifestyle.
Environmentally friendly : There are so many reasons why artificial grass is good for the environment; you're not using precious water resources; you're not using a highly polluting lawn mower; you're not using harsh fertilizers that have a seriously negative impact on your local area.
Allergy Free : Grass pollen can cause allergies. If you have someone in your family who suffers with hay fever, you know how much a freshly mowed lawn can impact their health! With artificial grass, you won't have to worry.
So when you're looking for an impressive, natural look for your garden, knowing you are having a positive impact on the environment, with no more muddy footprints in the house, choose HQ Limestone to install your wonderful new lawn, with the best products on the market today.
Call today for your free quote.